Just about any form of dance requires some combination of strength, agility, grace, stamina and mental toughness. And in order to be the best at your craft, regular training is vital. Sometimes though, intense training of the same muscles in repetitive ways can reek havoc on your body, not to mention make you feel mentally burnt out. But what if that didn't have to be the case? What if you could train in ways that didn't just involve dance? What if, instead, you could revitalize your body by participating in something entirely different? That's where rock climbing comes into play.
Not only does rock climbing, both indoor and outdoor, require many of the same skills required in dance, it can take your abilities as a dancer to a totally new level.
Rock Climbing is Great Cardio
According to BellaDivaDance.com, cardio training is extremely important when it comes to dance. Not only do you need to maintain endurance during choreography, but it can also help keep you from getting injured. Particularly when top-rope climbing as opposed to bouldering, you need prolonged stamina in order to finish a route properly.
Even if you don't have a climbing partner, most rock climbing gyms have auto-belay systems that allow you to climb entire routes without the help of a belayer. When cross training, aim for a total of 30 minutes on the wall, but start out at lower intervals when you're first getting into it. After three or four back to back climbs, you're sure to be sweating like you just ran a mile.
It Requires Technique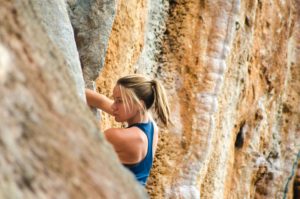 Much like dance, you can't be a successful rock climber without smooth technique. Despite what lots of people seem to think, the goal of rock climbing is not to get to the top of the wall as fast as you possibly can. Actually, it's quite the opposite. Many moves, whether you're a beginner or advanced climber, require intense concentration and careful precision to achieve successfully.
In fact, moving from hold to hold when climbing is a lot like performing a dance routine — you have to move slowly and gracefully, carefully considering every foot, hip and hand position before heading on to the next move.
Rock Climbing Requires Mental Toughness
As a dancer, have you ever found yourself extremely frustrated when you can't nail a move? Or perhaps you've hindered your own progress when you're afraid to attempt that particular throw or flip that your instructor desperately wants to include in the routine. In a lot of ways, rock climbing is no different.
There will be times when you climb that your fear takes over, and you let go of the wall before even trying to go for that next hold. But that's exactly what makes the sport so great. It forces you to face your fears head on. Even when you think you can't land a move, there's no consequence to at least trying. And when you finally make it, you're reminded of just how capable you actually are.
There's no feeling quite like it.